VANCOUVER, British Columbia – October 19th, 2023 – iMetal Resources Inc. (TSX.V: IMR) (OTCQB: IMRFF) (FRANKFURT: A7V) ("iMetal" or the "Company") is pleased to announce completion of both a digitally-enhanced prospecting (DEP) and a data reprocessing and remodeling program at the Company's Kerrs Gold project, which lies within the prolific Abitibi Greenstone Gold Belt 90 kilometres east-northeast of Timmins, Ontario. These programs were designed to generate new and more precise targets for upcoming drilling programs.
Saf Dhillon, Chief Executive Officer, stated: "Our Kerrs Gold project is a highly prospective gold property in the Abitibi Greenstone Belt. The wealth of information available has allowed us to target gold mineralization trends that we believe have a high probability for drilling success. The presence of a historical resource (7,041,460 tonnes grading 1.71 g/t gold yielding 386,467 ounces at a 0.5 g/t gold cut-off) indicates to us that the project has a high potential for economic quantities of gold."
The Kerrs Gold historical resources estimate was disclosed in "NI 43-101 Resource Estimation on the Kerrs Gold Deposit, Matheson, Ontario" prepared for Sheltered Oak Resources Inc. by Garth Kirkham, P. Geo of Kirkham Geosystems Ltd., and dated June 10, 2011. The Company considers the resource estimate relevant and reliable to drive further exploration by the Company as it was completed by a competent Qualified Person to the standards of the day. The resource estimation methods and parameters were as follows:
• Forty-one drill holes were utilized to interpolate the KBX Zone.
• Composite length of 2 m was chosen and composites were weighted by length.
• Sectional interpretations were wire-framed to create 3-D solids of the zones.
• Zones were coded to the composites, and the block model, to constrain the modeling process.
• Composites for the mineralized zone were used to interpolate into the blocks for each zone.
• Ordinary kriging was used as the interpolator.
• Relative elevation modeling was used to guide the ellipse orientation that accounts for the variation in dip due to the synclinal structure.
• A minimum of two composites were used for each block and a maximum of two composites were used per drill hole; a maximum of 12 composites were used per hole.
• A cutting factor was applied for gold with outlier composites limited to 10 g/t Au based on cumulative frequency plots. A zero-cut-off grade was used for the manual polygonal method.
• Minesight™ Software was used to perform the block modeling and estimations.
The Kerrs historic estimate is an inferred resource as defined in National Instrument 43-101. The Company is not aware of any more recent resource estimates, though there was further drilling completed after the historic estimate was released. The Company will need to review the historical drilling and analyses and will need to twin a number of the historic holes to bring the historic estimate current. The Company's Qualified Person has not done sufficient work to classify the historic estimate as a current mineral resource. iMetal is not treating the historical estimate as a current mineral resource.
Figure 1 – Plan Map of Kerrs Gold Project DEP Survey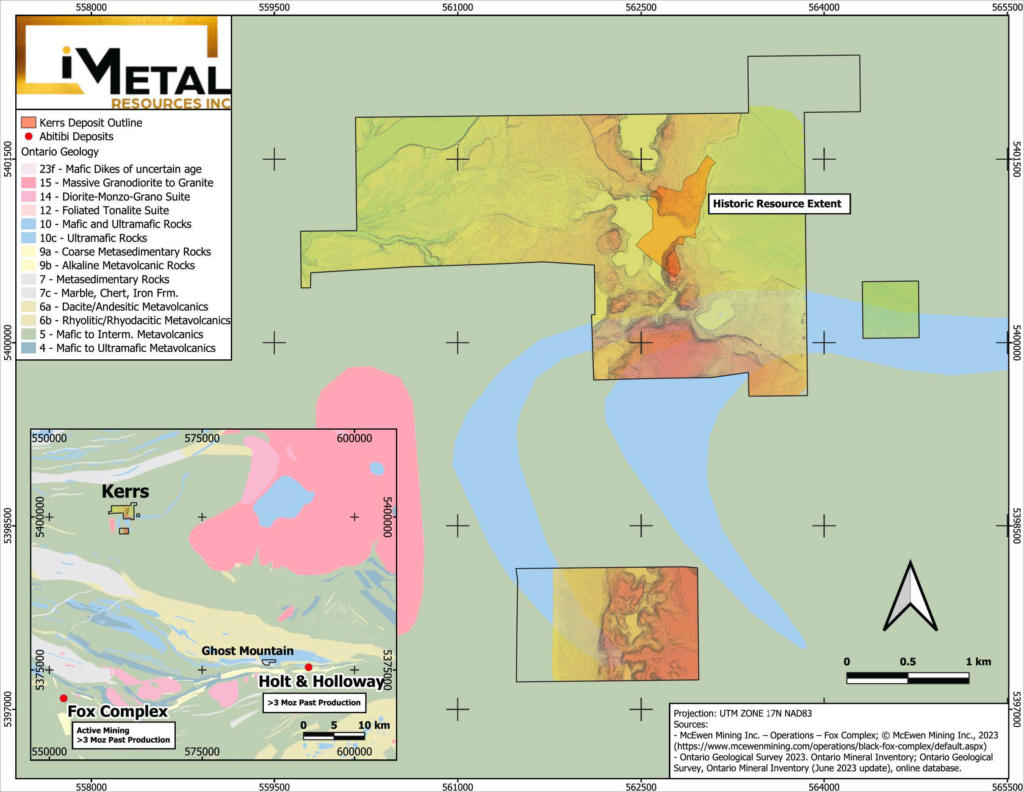 The DEP was completed by Waring Minerals Inc. UAV LiDAR was flown in order to locate outcrops on the property for the purposes of sampling and mapping. The DEP results will be combined with previous IP, VTEM, and drilling results to guide the next stage of exploration which will include follow-up drilling programs. Surface samples have been reviewed by company geologists and select samples have been submitted to ALS Laboratories in Sudbury for analysis.
The Company performed an internal audit of all historical data for Kerrs and subsequently created a new interpretation of the gold-hosting zones to generate new drill targets. The re-interpretation discovered several areas indicating up-dip potential from the historic resource zones. There are also previously untested geophysical anomalies that represent possible parallel structures to the known mineralized zones. In addition, the Company believes previously identified basal till anomalies have never been properly explained by the existing discoveries.
The scientific and technical information contained in this news release has been reviewed and approved by Scott Zelligan, P. Geo (Ontario), VP Exploration of iMetal and a qualified person as defined in National Instrument 43-101.
Figure 2 – Plan Map of Kerrs Gold Project with Drill Targets based on New Modeling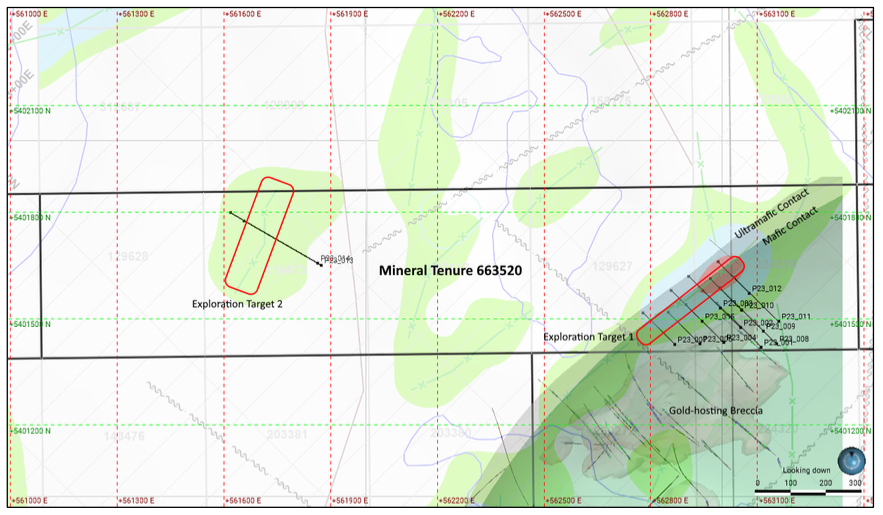 About iMetal Resources Inc.
iMetal is a Canadian based junior exploration company focused on the exploration and development of its portfolio of resource properties in Ontario and Quebec. The Flagship property Gowganda West, is an exploration-stage gold project with a recent discovery hole of 48.5m at 0.85 g/t gold that borders the Juby Deposit and is located within the Shining Tree Camp area in the southern part of the Abitibi Greenstone Gold Belt about 100 km south-southeast of the Timmins Gold Camp. The 665-hectare Kerrs Gold deposit comprises a series of gold-bearing pyritized quartz vein replacement breccias with a 2011 historic resource, 90 kilometres ENE of Timmins. The 220-hectare Ghost Mountain property, 42 kilometres NE of Kirkland Lake, lies 5 kilometres W of Agnico Eagle's Holt and Holloway Mine.
ON BEHALF OF THE BOARD OF DIRECTORS,
Saf Dhillon
President & CEO
iMetal Resources Inc.
[email protected]
Tel. (604-484-3031)
Suite 550, 800 West Pender Street, Vancouver, British Columbia, V6C 2V6.
https://imetalresources.ca
Neither the TSX Venture Exchange nor its Regulation Services Provider (as that term is defined in the policies of the TSX Venture Exchange) accepts responsibility for the adequacy or accuracy of this release.
This news release may include forward-looking statements that are subject to risks and uncertainties. All statements within, other than statements of historical fact, are to be considered forward looking. Although the Company believes the expectations expressed in such forward-looking statements are based on reasonable assumptions, such statements are not guarantees of future performance and actual results or developments may differ materially from those in forward-looking statements. Factors that could cause actual results to differ materially from those in forward-looking statements include results of exploration, variations in results of mineralization, relationships with local communities, market prices, continued availability of capital and financing, and general economic, market or business conditions. There can be no assurances that such statements will prove accurate and, therefore, readers are advised to rely on their own evaluation of such uncertainties. We do not assume any obligation to update any forward-looking statements except as required under the applicable laws.